Products
Solutions
Project Case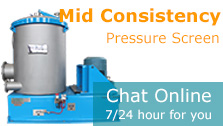 Shanxi Dawei Annual Output 200,000 T Corrugated Paper Project
Shanxi Dawei Paper Co., Ltd. is the only enterprise in Datong that produces industrial paper such as high-strength corrugated paper and T paper. Two new corrugated and T paper production lines will be built. Shanxi Dawei Paper Co., Ltd. signed a contract with Leizhan for a complete set of pulping equipment.
Shipping Details Of 200,000 T Corrugated Paper Project
1.Delivery site: Shanxi Dawei Paper Co., Ltd.
2.Delivery date: April 2, 2022
3.Ordered equipment: Drum pulper, bale breaker, chain conveyor, reject separator, light impurity separator, refiner, new fractionating screen, mid-consistency pressure screen, inflow screen, vibrating screen, agitator, etc.
The Shanxi 200,000 T corrugated paper project builds two 4800/500 single-fourdrinier four-roll three-pressure high-strength corrugated paper production lines. Leizhan provides a complete set of pulping equipment and full technical support. Welcome to contact us for more details and quotations of paper machines and pulping equipment.
Email: paperproductmachine@gmail.com