Products
Solutions
Project Case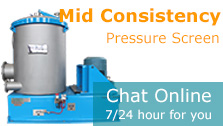 Drum Pulper Equipment To Guangdong, China
In August, 2017, paper pulping equipment drum pulper is delivered to Guangdong, china for 25,oooo ton per year paper making. Guangdong paper mill order Leizhan a complete puling equipment for paper making, the drum pulper is the first equipment and it's very best for large capacity paper making.
Paper Pulping Drum Pulper Equipment
Drum pulper is mainly used for continuous paper pulping, it can divide into pre-soaking part, pulping part and screening part.
Pre-soaking Part: The raw material will be firstly conveyed into drum pulper pre-soaking part for intensive mixing with water.
Pulping Part: After soaking, the raw material will be puling by constantly beating and falling in pulping part.
Screening Part: After pulping, the pulp is washed by water spray pipe, the fine pulp pass the screen hole and into pulp chest, the heavy impurities will be stayed in screen part for continuous elutriating, finally discharged from the discharge mouth.
Customer Information
Customer: Guangdong, China
Time: August, 2017
Project: Drum Pulper Equipment For Paper Making