Products
Solutions
Project Case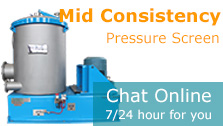 Inflow Pressure Screen for Culture Paper Making

To meet paper plants' demands, Leizhan engineers designed innovative paper machinery and advanced culture paper manufacturing solutions that adapts to the specific paper grades and requirements of individual paper machines. NLS series inflow pressure screen is specially designed by Leizhan professional engineers and it has greatly improved the efficiency of culture paper pulp making system and end products quality.
Features of Inflow pressure screen
1. Mainly used for fine screening of chemical pulp, waste paper pulp and the fine screening of all kinds of paper pulp before paper machines.
2. Rotor rotates outside of the sieve drum, heavy impurities flow away from the sieve drum, not blocking sieve seam, and highly increased the service life of sieve drum.
3. Fairshaped rotor, pulp flows smoothly.
4. Good effect of impurities separating, not easy to jam sieve seam.
5. High screening efficiency, reliable operation.
6. Equipped with automatic lubricating device, which reduces maintenance costs.
7. Automatic detection alarm device of sealing water flow ensures the safe operation of equipment.
Maintenance of Inflow pressure screen
1. Main shaft bearings applied to grease lubrication, the oil in the automatic injection device should be kept in a certain level.
2. The cover lifting bearing devices grease once a year.
3. The tension of the triangle belt must be checked regularly.
4. Check the cooling water supplied for the mechanical seal frequently.
5. In order to avoid difficulties of restart, when the machine shut down in a long time, the pressure screen cylinder must be washed carefully.