Products
Solutions
Project Case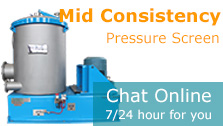 Special Waste Paper Chain Conveyor
Leizhan Chain Conveyor is for conveying waste paper in paper recycling process, what's the special advantages comparing with others conveying equipment?
Paper Chain Conveyor Specialties
1. Trough plate once-time impact stamping, sturdy and durable, strong impact resistance;
2. Configurated hardened reducer, high safety factor;
3. Chain plate on both sides have the V-shaped plate, improve the transport capacity to ensure that impurities do not slide to the wheel, improve service life;
4. There is chain plate elastic adjustment device at the tail to avoid the phenomenon that after a period of time using, the tightness changes lead to deorbit;
Chain Conveyor Technical Parameters
1. Motor configuration is 5.5KW YVP132M-6 pole (with electromagnetic brake and frequency control); Reducer configuration is the ZSY200-71 type hardened gear reducer, speed ratio is 71: 1, the motor through the pulley reduction ratio is 2.8: 1; The total reduction ratio is: 198.8: 1
2. According to the required load-bearing, the maximum required torque of the chain conveyor is about 4400N.M, and our company's configuration ZSY200 hardened gear reducer output maximum torque is 10171N.M, 2.3 times of the required torque, so can ensure the normal operation of the chain conveyor. The motor is equipped with electromagnetic brake device, can effectively brake, ensure the safety.