Products
Solutions
Project Case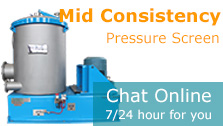 Fiber Fractionating Screen For Sale

Pulp screening is one of the most important aspects of improving pulp quality and adding value during the pulp and paper production process. Leizhan has the latest pulp screening technologies and extensive experience in paper and pulp industry.
Fiber Fractionating Screen for sale
Fiber Fractionating Screen is used for screening of various waste paper pulp, wood pulp in pulp making process. The purpose of fractionation is to separate the stock fibers according to various characteristics, such as long and short fibers and stiff and flexible fibers. Leizhan supplies high performance fiber fractionating screen for sale.
Advantages at a glance
1. Many rotor blades, no winding, high efficient and energy-saving rotary rotor.
2. The machine can screen pulp normally under quite high consistency(2.5-4%). It reduces the amount of water cycle and system energy consumption in production process.
3. Heavy impurities discharge pipe makes sure the screen basket runs safely.
4. Advanced structure, low energy consumption, less loss of fiber.
5. Automatic oil injection device can reduce maintenance.
6. Seal water flow automatic detection alarm device makes sure the system runs safety.
7. Interlock system ensures the service life of equipment.
LEIZHAN products
Apart from waste paper pulp screening equipment Mid consistency pressure screen, LEIZHAN also supply many other pulp&paper machines for pulp & paper making like Bale breaker, Drum pulper, D type hydrapulper,  Ragger, Pulp cleaning equipment, Refining equipment, Pulp pump, etc.