Products
Solutions
Project Case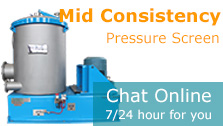 What are Leizhan's main products?
 
The three following  paper machines are the main products of our company.
ZG Series Drum Pulper
1. Energy-saving
Drum pulper can pulp waste paper under 15-20% high consistency to reduce water consumption and lower energy consumption. Continuously pulping and rejecting system reduces the burden of accessory devices and the following devices.
2. Improved finished pulp quality
Gentle pulping system will not damage the strength and length of  fiber pulp, maximum ensures light impurities and part of heavy impurities not to be broken, which ensures the cleanness and quality of the finished pulp.
3. Low maintenance cost, less labor needed.
Drum pulper integrates high density pulping and coarse screening into its function and has the advantages of simple structure, durable, low maintenance cost and less labor needs for waste paper selecting, thus reducing expenditure.
ZNS Series Mid Consistency Pressure Screen
Many rotor blades, no winding, highly efficient and energy-saving rotary  rotor.
Pulp can be screened normally in high consistency (2.5-4%), effectively reduce the amount of water circulation and energy consumption in production process.
Heavy impurity discharge tube, ensuring the security of the screen cylinder operation.
Advanced structure, strong and durable, easy dismounting, low energy consumption, less wastage fiber.
Easy operation, continuous work less faults, reduce maintenance costs.
Equipped with automatic oil injection device, reducing maintenance.
Seal water flow automatic detection alarm device, ensuring the safe operation of equipment.
Interlock control system, ensuring the service life of the equipment
NLS Series Inflow Pressure Screen
Advanced structure, durable, easy to assemble and disassemble, low energy consumption, high efficiency.
Easy to operate, continuous running and less malfunctions reduce maintenance cost.
Equipped with automatic lubricating device, which reduces maintenance.
Automatic detection alarm device of sealing water flow, which ensures the safe operation of equipment.
 Interlock control system, ensuring the service life of the equipment.