Products
Solutions
Project Case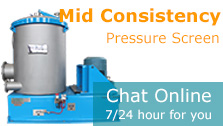 Waste Paper Processing System

Leizhan is capable of supplying whole waste paper processing systems for the specific design according to customized needs of paper plants, depending on the raw materials types, and quality required of the final pulp.  Besides, line production capacity, power consumption and other demands also affects the system design.
Before developing equipment for each process step, we gained a deep understanding of how individual equipment must perform within the entire system. In some cases, this knowledge helped us to combine two process steps in one single unit – simplifying the arrangement and saving significant costs. Hundreds of installations give us the foundation for suggesting improvements and modifying equipment for each new application.
Key equipment for wastes paper processing system
Leizhan recommends the Hi-tech drum pulper in order to ensure consistently high pulp quality. The Hi-tech drum removes contaminants in the first stage of the process. In this way, the purity of the pulp is maximized and less equipment is required downstream to clean the pulp.
The He-tech drum pulper itself does not generate fines or damage fibers. The best fiber qualities are maintained. Following the drum, Leizhan pulp cleaning systems will be used for remove heavy impurities in paper pulp. After pulp cleaning,  pulp screening systems can be employed to maximize pulp cleanliness.  Pulp thickening is accomplished easily and economically with our thickeners. Leizhan provide excellent solutions for processing rejects and sludge.